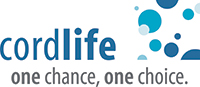 MOBILE NUMBER
+63 949 889 3603
LANDLINE NUMBER
(02) 8470 1735

Cordlife has been spearheading the celebration of World Cord Blood Day in the country since the first one in 2017 through various campaigns that help in the awareness and education of the public about cord blood stem cells and cord blood banking.



About Cordlife Philippines
Cordlife Philippines is the first and only DOH-registered, ISO-certified, and AABB-accredited private cord blood bank in the country trusted by more than 20,000 Filipino parents that offers umbilical cord blood (UCB) banking, umbilical cord lining (UCL) banking, umbilical cord tissue (UCT) banking, and mesenchymal (MSC) banking.
Cordlife Medical Phils., Inc. is a subsidiary of Cordlife Group Limited, a Singapore Exchange ("SGX") Mainboard listed company, providing the service of cord blood and umbilical cord lining banking.

Copyright © 2023 Cordlife. All rights reserved.